Brunnera needs a better name, that's for sure. On the Fine Gardening website's very handy pronunciation guide (http://www.finegardening.com/pguide/pronunciation-guide-to-botanical-latin.aspx), they pronounce it two different ways! The common name is Siberian Bugloss, which is even worse. I think brunnera belongs in every spring garden, and if you don't have it, I'll give you one.
Brunnera's close relative is forget-me-not (talk about an adorable name), and its flower is that same little bluet. But unlike forget-me-not, brunnera has a substantial, heart-shaped leaf, which emerges in early spring and offers a good counterweight to all the frilly bleeding heart and anemone foliage.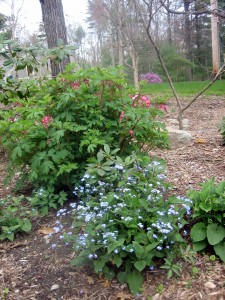 The foliage is not as elegant and glossy as hosta, but it is deer proof and slug proof. And there are some very popular variegated brunnera, including 'Jack Frost,' 'Emerald Mist,' 'Hadspen Cream' and 'Variegata.'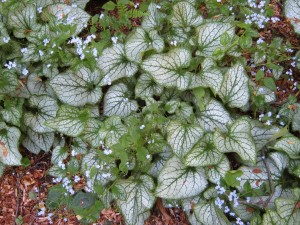 Brunnera macrophylla 'Jack Frost'
It's snazzy, all right! But in my garden, I grow the straight species, Brunnera macrophylla. The plain, solid green shows off the flowers best and gives my eye a rest from all the spring madness. And it self-sows! It's not at all a dangerous invasive but it does spring up happily here and there. If you want a baby brunnera, call me soon because eventually I'll have to weed out the volunteers in my garden path.