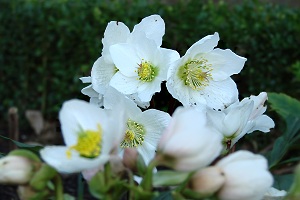 "Though we bless the flower of June,
and all its charms remember,
We've double blessings for the rose
that blossoms in December." Charles Mackay, 1812-1889
Hellebores are also known as Christmas Rose (Helleborus niger) and Lenten Rose (Helleborus orientalis), and as you would expect, they'll bloom anytime from December to March, if conditions are right. They are not roses at all, but a very restrained and elegant flower, arriving in the bleakest season.
Hellebores inhabit a color triangle between vertices of midnight plum, spring green, and snow white. Within that space you will find every imaginable shade, streak and freckle of purple, pink, rose, raspberry, mauve, lilac, aubergine, amaranth, celadon, chartreuse, claret, wine, ivory, heliotrope, puce, willow, orchid…. For me, this is more than enough, but now there are even some yellow cultivars arriving on the scene. Probably by next year I'll be completely in love with those too.
These plants cross easily and rarely stay true. I planted a pure white Helleborus niger in my "white garden" in 2005, and it stayed white for some time. But I liked it so much that eventually I planted some more hellebores in that space, and when the new ones bloomed they had a touch of pink around the centers. I hastily replanted them on the other side of the house but – too late! – the next generation of my white garden hellebores showed streaks of mauve.
Moral of the story is don't be too controlling with your white garden. (Or with any garden, for that matter.)
Anyway, now I have various hellebores in various places. They are reasonably (not totally) deer resistant, and "evergreen" in that some leathery leaves remain all winter long. Unfortunately, these are mostly covered with snow, and in the spring they look pretty beat up. So you end up snipping them off, and then you have this lovely flower posing awkwardly on its naked stem. I am delighted with the solution I have for this, and I can't believe it took me so long to figure it out: pansies! This year I planted pink pansies as close to the stems as I could, and I absolutely love the effect. The pansy foliage anchors the hellebore stems, and the reddish-pink of the pansy faces works perfectly with the rosy streaks of the hellebores. And eventually the new leaves come out, as sturdy and gorgeous as you could wish.
Be aware that some hellebores hold their flowers facing down. Breeders have developed and are continuing to develop cultivars that face upright, so you can select plants based on this trait. But if you are just picking up a plant in a garden center, it may have a drooping habit. Hellebores with this droop can be sited on a slope or a raised bed so you can get a good look at their faces.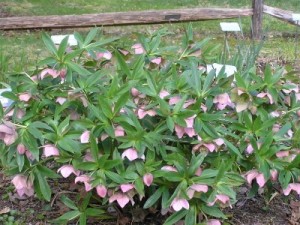 Also be aware (and beware) that these plants are poisonous! Their name comes from the Greek, "elein" (to injure) and "bora" (food). Delphians and their supporters are said to have used hellebores to poison the water supply during the siege of the city of Kirrha in 585 B.C. If hellebores can wage war, it beats me why the deer still occasionally eat them…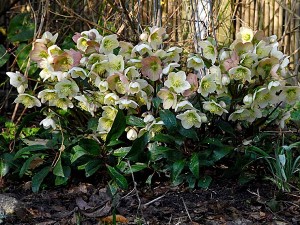 There is an old fable about hellebores, sourced variously to England and Italy, that is recounted in The Legend Of The Christmas Rose by Henry Ezekiel Jackson (1914). In this story, a young girl (in England, her name is Madelon; in Italy, she is an unnamed daughter of one of the shepherds) follows the crowd to the stable in Bethlehem where Jesus lies. Heartbroken at having no gift, she begins to weep. Her guardian angel makes the snow melt and flowers bloom where her tears fall, and she gives these flowers to the Baby. Jackson's interest in the flower and fable is connected to a 19th-centure painting by Alfred Hitchens in which hellebores feature prominently. I wish I could show you this charming painting, with the little girl and her hands full of hellebores and the angel benevolently watching – but I can't extract it from the text, which is graciously reproduced online by several Ivy League libraries. So instead I leave you with a drawing by beloved Scottish artist Charles Rennie Mackintosh, from the Victoria and Albert collection in London.