Hydrangea arborescens 'Annabelle' is one of the most worry-free garden shrubs I know. It is a deciduous shrub with a round habit, 4 to 5 feet tall and similarly wide. With this hydrangea, you don't have to add aluminum sulfate (for blue) or lime (for pink) – the flowers are reliably pure white. Bloom time is June to July, but the drying flower heads look good all fall.
Hydrangeas can be a bit blowsy and floppy, so make sure your Annabelle has plenty of room. Prune in March to stalks of about 2 feet high. You can snap off old deadwood at this time, or you can leave it to help support the plant somewhat. If you are really concerned about flopping, set a length of ornamental fence in front of the shrub that it can lean on.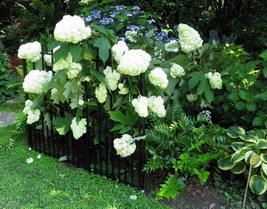 But it's easier to use Annabelle in an area where it can expand and flop all it wants. Here, it creates an absolutely maintenance-free buffer zone between woods and lawn.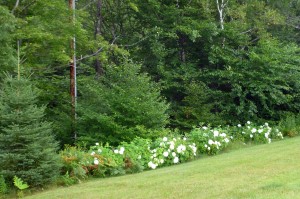 What l like best about Annabelle is how it will bloom even in shade. In Massachusetts it will tolerate a fair amount of sun if kept watered, but its preference is shade in the afternoon. I have even grown it in deep shade, which turns the blossoms somewhat green. I like it! There is still enough white to light up the darkness.
At the very end of the season, pick some of the best blooms and leave them in the attic to dry. They last for years.
This may be the most famous hydrangea poem in English. I haven't found that the white hydrangeas go rust – I wonder what cultivar Sandburg was looking at?
"Hydrangeas" by Carl Sandburg
Dragoons, I tell you the white hydrangeas turn rust and go soon.
Already mid September a line of brown runs over them.
One sunset after another tracks the faces, the petals.
Waiting, they look over the fence for what way they go.